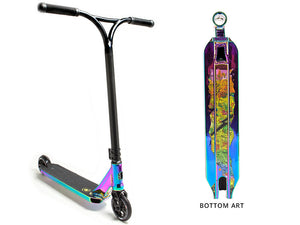 Lucky NeoChrome Covenant | Pro Scooter Shop
Lucky Scooters has always been a brand that prides themselves on the premium quality of their beautiful line of complete pro scooters. They offer a selection of completes that ranges from entry level all the way up to the most advanced level of riding. Each and every single one of Lucky's completes comes equipped with everything that a scooter rider could ever want or need in terms of the components and specifications that come included. However, there is one Lucky complete scooter that has really stood out during its time at Pro Scooter Shop. The Lucky NeoChrome Covenant has seemingly become one of the most popular complete pro scooters that we have ever carried. As soon as we manage to get a new round of them in stock, they almost immediately begin to just fly off the shelves, which explains the reasoning behind this article. The Lucky NeoChrome Covenant is truly a thing of pure beauty. Lucky Scooters must have really taken their time with this one because every scooter rider that comes into Pro Scooter Shop is mesmerized by its elegance. On top of that, the remarkable list of superb components and specifications is hard to ignore. If you don't believe me than check it out for yourself:
Covenant™ deck: 521 mm x 113 mm (20.5" x 4.45")

Headtube: 82.5 degrees

Bar: Lucky Silo™, 584 mm x 559 mm (23" x 22")

Fork: Lucky Indy™ (6061 T6 aluminum)

Headset: Lucky, fully integrated

Compression: HIC

Clamp: Lucky Triple Clamp

Wheels: Lucky Toaster 110mm

Brake: Lucky SteelyBrake™

Grips: Lucky ViceGrips™

Total Weight: 3.62 kg (8.0 lbs)

Deck Art: Shogo Ota
This scooter's sheer beauty certainly wasn't an accident. Lucky Scooters even hired a street artist by the name of Shogo Ota to come in and work on the art for the bottom of the Covenant deck. Between Shogo's phenomenal work on the bottom of the deck and the gorgeous NeoChrome colors that jump out at you whenever you look at them, it's safe to say that this scooter is one of the most aesthetically pleasing completes that we have ever laid our eyes on. If you're sold on this scooter after reading this than we suggest you pull the trigger and purchase your NeoChrome Covenant as soon as possible because they are moving fast. The Lucky NeoChrome Covenant is currently available at Pro Scooter Shop for the very affordable price of just $299.99, so get there while supplies last. 
---