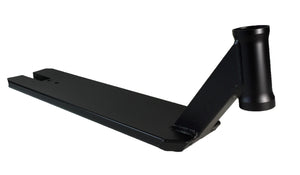 Black Scooter Decks | Pro Scooter Shop
As most of you already know, Black is a color, or should I say shade? that never goes out of style. You can beat it up quite a bit or get it dirty, with out ever having to worry about it looking too terrible. On top of that, black is definitely one of sleekest looking color options out there, which is why we at Pro Scooter Shop thought that it is important to remind you of some of our extremely stylish black scooter decks that we have in stock. Scooter decks, much like the color black, will stand the test of time, so investing in a black scooter deck is potentially the greatest thing that you could ever do for your scooter. There is also such a wide variety of different shapes, sizes, styles, and brands of black scooter decks that finding the right one for you shouldn't be too difficult. below is a selection of a few of our excellent models of black scooter decks. Be sure to check them out and keep them in mind for the next time that you make your next scooter deck purchase. You will never go wrong with a classic black look.
As the name implies, Pandemonium can ensue with this bad boy from Ethic DTC.  Black never goes out of style.
Gorgeous top and bottom.  Just how we like 'em, right?  Blake Bailor signature deck from Lucky Scooters.
Phoenix ION is no slouch.  No nonsense 21"x4.5" profile.
Big.  Black.  Industrial.  TSI Paramount.
---