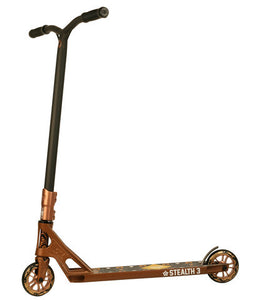 AO Stealth 3 | Pro Scooter Shop
The Alpha Omega Stealth 3 complete pro scooter is certainly one of the finest complete pro scooters available on the market today. It incorporates style, performance, and versatility all into one masterpiece scooter. It is the perfect scooter for an entry level rider to bring with them to the skate park for their first, yet it is also an advanced enough set-up for an intermediate or professional freestyle scooter rider as well. The AO Stealth 3 essentially features nothing, but the most premium scooter components, which is rare to find in a fresh out of the box complete pro scooter. The components and specifications that come on this beautiful scooter, include:
NEW vertically machined forged neck 
NEW bicycle style paint job (more scratch resistant and vibrant colors)
NEW graphics on bottom, grip tape, bars and fork
NEW sealed dropouts in front
NEW adjustable brake (125 mm ready)
NEW brake with welded-on nuts
NEW forged Model  A fork (threadless)
NEW forged Raptor SCS clamp (only 5.3 oz., 160 g)
NEW steel bar (standard size)
Fully integrated (SCS)
841 spoked aluminum wheels (110 mm)
High precision Titen headset bearings
As you can see, most of the components that are included on the Stealth 3 list of features are labeled as new, which means that they are the latest and greatest of what's available in scooter technology and design. The Stealth 3 is truly a thing of pure beauty, especially when you consider the gorgeous color options that it comes available in. You can never go wrong with Copper, Chrome, and Black. On top of all of these spectacular features that the Stealth 3 is laced up with, the fact that this awesome scooter is available for the low price of just $259.95 at Pro Scooter Shop is quite a bargain. It's not very often that you come across this superb of a complete pro scooter for such a reasonable price. Be sure to visit Pro Scooter Shop online or in store to take a closer look at this awesome scooter, along with everything else that we have to offer! Also, stay tuned on our blog in order to receive more product content and future Pro Scooter Shop news!
---