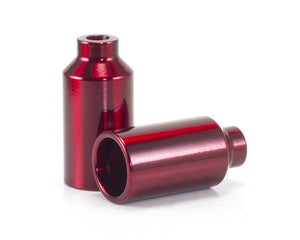 Scooter Pegs | Pro Scooter Shop
Freestyle Scooter Pegs are an interesting element of freestyle scooter riding because they were originally introduced to the world of freestyle scooter riding in the last several years. Before scooter companies actually started designing and manufacturing their own pegs, scooter riders were essentially forced to just create their own make-shift pegs at home, hoping that they would end up working. This concept ended up working out fairly successfully, but eventually the industry caught up with the demand for pegs and scooter companies actually began producing them. Ever since the initial explosion of popularity in freestyle scooter pegs, kids have constantly been coming into Pro Scooter Shop saying that they need to get some pegs, regardless of whether or not they were actually going to use them or not. However, what most of them don't realize is that purchasing a pair of pegs can be a big decision that can have a lasting impact on the functionality of your scooter. Before making the investment in and commitment to pegs and peg riding, we over here at Pro Scooter Shop recommend that you do your research first.
Pegs come in all sort of different sizes, shapes, weights, and designs, which is why this purchasing process can be exceedingly difficult. Some of the most popular brands of pegs that we carry include: Tilt, Apex, and Lucky. These three companies seem to have mastered the art of designing fully functional freestyle scooter pegs. All of their designs are lightweight, versatile, and perfectly contoured to grind smoothly across any grind obstacle, whether it be a ledge, rail, or even coping. The Tilt Chromo pegs have been around for a good couple of years now and have made a name for themselves as one of the classic scooter peg designs. These bad boys are currently available at Pro Scooter Shop for the low price of just $29.99 and come in five different color options, including: Black, Blue, Red, Silver, or Purple! The Lucky Lugs are also one of the more popular peg designs that we carry at Pro Scooter Shop and they are available in Black, Gunmetal, or polished for just $24.95. Finally, we have the Apex Barnaynay pegs, which are our lowest priced pegs out of these three brand. They are $22.99 per pair and they come in Black, Blue, and Red. Anyways, hopefully this article has given all of you a little bit of insight into the world of pegs, so that you can make an informed decision the next time you find yourself purchasing a pair of pegs!
---