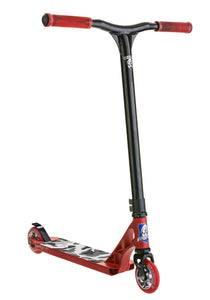 Grit Scooters | Pro Scooter Shop
Grit Scooters is one of those brands that is known for making a splash in the industry when they release new product. They also manufacture some of the most reliable, high quality complete pro scooters in the world, so typically when an entry-level rider is looking to purchase their first pro scooter, Grit is one of the first recommendations that we at Pro Scooter Shop will make to them. The Grit Elite is one of the more popular Grit complete pro scooters that we currently have in stock, and let me tell you, this thing is stacked from head to toe with some premium freestyle scooter components. Here is the full list of specifications and components that the Grit Elite comes equipped with:
Deck Size (L x W) - 4" x 19.75" 6061 Alloy Skeleton Downtube w/ 3 degrees concavity

Compression - HIC

Headset - Neco 1 1/8" Sealed

Fork - Threadless High Tensile Steel Fork w HIC system

Bars (L x W) - 22" x 21" Reinforced Riser Chromo Bars

Grips - Ridged 2 Color Soft Feel Grips

Clamp - 34.9MM Alloy Contoured Triple Clamp

Wheels - 100MM 88A PU Alloy Core Slotted Wheels, ABEC 9

Brake - Grit Flex Fender

Weight - 9.10 lbs
If you aren't sold on the Grit Elite after checking out everything that it comes equipped with than maybe Jordan Clark will have you convinced. Jordan is hands down one of the best freestyle scooter riders in the world right now, and he has been riding for the Grit Scooters team for quite some time now. Jordan stands by the strength, durability and performance that Grit Scooters has to offer, and he wouldn't be caught riding any other scooter. If you don't believe us, check out one his latest and greatest videos for yourself and formulate your own opinion.
---