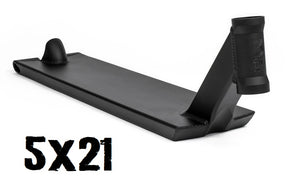 Scooter fenders or foot rests or brakeless pads...call them whatever. They are popular.
Is they scooter brake a thing of the past?  Could be.  While most top brands still release their complete pro scooters with full brakes, we're seeing a trend where the true brake is being replaced with fenders, foot rests and brakeless pads.
Why the trend?  A few reasons...
As riders continue to evolve the sport and their own riding styles, the bulky brake can get in the way.  Brakes arch up and over the rear scooter wheel, adding another obstacle that the rider's feet need to contend with.  Fenders and foot rests have a much smaller footprint, pun intended, giving the rider more freedom of movement.
For the new-to-sport and the beginner riders, they have a tendency to use the brake...a lot.  This can lead to uneven wear on the rear wheel.  Or worse, a flat spot that makes the wheel pretty much useless.  Scooter wheels are soft urethane, rating in the 86a to 90a durometer range; a measure of the hardness of plastics and related materials.  
Let's not forget looks.  Brakes, while functional, look like, well, brakes.  Nothing imaginative or sexy.  Fenders and foot rests can take on a more stylish shape, giving the pro scooter a more clean and creative look.
Brands like Tilt Scooters and Havoc Scooters are making decks and completes that come standard with fenders and foot rests.  A few have gone so far as to weld the fender, so there's no option for an after market brake.  Other popular brands like Lucky Scooters, Envy Scooters and Ethic DTC Scooters make fenders and brakeless pads that will fit most of their own brand decks.
Have we seen the end of the scooter brake?  Not likely.  But we will certainly continue to see the adoption of brakeless decks and completes.
Check out some of the popular decks and completes that support fenders, foot rests and brakeless pads.
The Havoc Hoss is a great example of a street style complete scooter that comes standard with a fender.  The deck does support an after market brake, also available from Havoc.
The Theory deck, from Tilt Scooters, comes with standard with a fender.  In fact, this fender is welded on so there's no replacing it with a brake.
Top scooter brands like Lucky, Envy and Ethic, now sell their own fenders and brakeless pads.  Most of these are designed to fit with each brand's family of decks.
Lucky D-Fender
, in oil slick, is compatible with all of their modern decks.  
Mega popular Ethic DTC Pandemonium decks come out of the box with brakes.  But they, too, now have a
brakeless pad
.  
Envy would be silly to ignore the fender trend, since they make some of the most popular scooters in the US, like the Envy Prodigy.  Their
footpad
has a very small profile, giving the deck a very clean look.  Photo enlarged so you can see the minimalistic design.
---