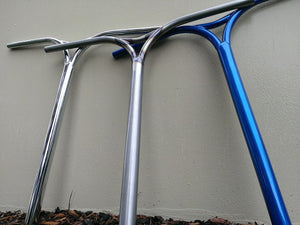 Bar Hopping | Pro Scooter Shop
As a freestyle scooter rider, the overall look and feel of your scooter is one of the most important aspects of your set-up, and your handle bars are one of the only direct connections that your body will make with your scooter while you are riding it, which is why it is so important to make the right decision when it comes to choosing handle bars. Scooter bars come in all sorts of different shapes and sizes, as well, so before you make the decision to purchase a pair of scooter handle bars, you want to educate yourself on the ins and outs of the various different types of bars.
Some BMX style scooter bars come equipped with back and/or down sweep, while basic T bars have a simple T shaped design and come equipped with no sweep whatsoever. These vast differences in bar design can change the entire look and feel of your scooter, which again, is why it is so important to choose the scooter bars that fit best for you. If you are just getting into freestyle scooter riding and are about to invest in your very first pair of bars then we at Pro Scooter Shop highly recommend that you start out with the basic T bar design. Its simple design, along with its classic look and feel, will allow you to ease into the process of familiarizing yourself with your set-up, which is crucial for any entry-level rider who is just getting into riding. 
Now, for some of the more advanced bar designs that are currently available on the freestyle scooter market, it is important to invest in the style and specifications that work best for you. With so many different BMX style bar designs in existence, it is easy to make the wrong purchase. The best recommendation that we can make for you is to try riding your friends scooters to see how the various different kinds of BMX style bars feel before you make the leap from classic Ts to much more advanced bars. Once you figure out which style of bars feel right for you, the next step is to decide which dimensions fit best, and also establish whether you want standard sized or oversized bars.
As far as dimensions are concerned, the only thing that you should be worrying about is how comfortable the sizing is. Do you feel too hunched over? or are they way to tall for you? also, how wide is too wide? and how narrow is too narrow? You need to ask yourself these questions in order to help establish what specific dimensions you are looking for.
After figuring out the correct dimensions for yourself, the last thing to do is decide whether or not you want oversized or standard bars. The only major difference between the two is the fact that standard bars require a shim in order to fit into a clamp, while oversized bars are a little bit thicker and do not require a shim. It essentially comes down to personal preference when it comes to making this decision, as some scooter riders trust standard more, while others are firm believers in oversized.
Once you have made all of these decisions, you are finally ready to invest in a pair of bars. We over here at Pro Scooter Shop have got you covered with a wide range of freestyle scooter bars that are all currently 12% off through the end of April when you use the code 'bar12' at check out, so be sure to make all of your handle bar purchases right here.
---