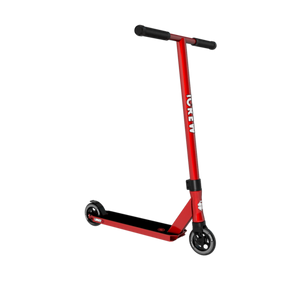 Lucky Crew Complete | Pro Scooter Shop
The Lucky Crew complete pro scooter is essentially the ultimate entry-level scooter, and that is what we tell each and every customer that comes in to visit Pro Scooter Shop. Whenever someone is looking to invest in their first complete pro scooter, we recommend the Lucky Crew because of all of the high quality components and specifications that it comes equipped with. If you are just beginning to dive into the freestyle scooter world, and are at a loss with deciding which scooter you should get, just take a closer look at the Lucky Crew's specs and you'll be convinced. Here is a list of some of the most celebrated aspects of the Lucky Crew:
Crew™ deck:  483 mm x 108 mm (19" x 4.25")
Headtube:  82.5 degrees
Bar: T-bar chromoloy, 533 mm x 508 mm (21" x 20")
Fork:   6061 T6 aluminum
Headset:   Lucky, fully integrated
Compression: TCS
Clamp:  Double
Wheels:  110 mm
Brake: Steel flex
Grips: Flangeless
Total Weight: 3.4 kg (7.6 lbs)
If you are not sold on this scooter after examining all of it's features then maybe it's sleek design and sheer beauty will have you convinced. This scooter is ready to roll straight out of the box, which is one of the best parts about it. It can perform at the same premium level of quality that all of the higher end completes perform at, but it will cost you a whole lot less. The Lucky Crew complete pro scooter is currently available at Pro Scooter Shop for the very affordable price of just $179.99, so be sure to come snag yours today!
---