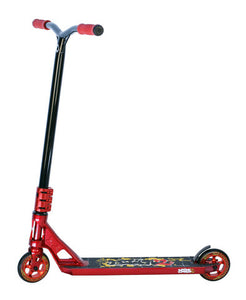 AO Delta 2 | Pro Scooter Shop
The Alpha Omega Delta 2 is essentially a more refined version of the original Delta scooter that Alpha Omega released. Although the Delta 2 is a much more simplistic scooter than the AO Stealth, the components that the Delta 2 comes equipped with are certainly up to the challenge of handling the abuse of daily riding. As for the more detailed list of the specifications that the Delta 2 is laced up with, it is available below:
NEW forged neck
NEW bicycle style paint job (more scratch resistant and vibrant colors)
NEW graphics on bottom, grip tape, bars and fork
NEW adjustable brake (125 mm ready)
NEW brake with welded-on nuts for one-hand operation
NEW threadless steel fork with Integrated Headset Compression (IHC)
Raptor triple clamp
NEW steel bar with gussets (standard size)
Fully integrated
High precision Titen headset bearings
Spoked 110 mm aluminum wheels
Upon closer inspection of the components that the Delta 2 comes equipped with, you can tell that it is definitely a high quality ride. It is also designed to handle practically any terrain that you choose to ride it on, whether that be street or park. It can handle the heavy impact of a stair set or gap, while also being able to flow smoothly through the ramps at a skate park. If you are interested in one of the several excellent Alpha Omega complete pro scooters, but you are thinking that the Stealth 3 is a little too much, and the original Delta isn't quite enough than the Delta 2 is the ideal set-up for you. The AO Delta 2 is currently available at Pro Scooter Shop for the low price of just $199.95 and it is available in 4 different color options, including: Black, Blue, Chrome, and Red. Go snag yourself one today!
---