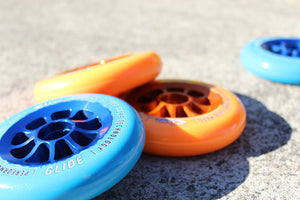 River Wheel Co. Products | Pro Scooter Shop
Now that we at Pro Scooter Shop have given all of you the low down on what River Wheel Co is all about, we figured it is time to breakdown each and every single one of their wheels because they have quite a few different options, and we know things can get confusing when you are trying to build the ultimate set-up. River Wheel Co currently offers eight different varieties of scooter wheels, and all of them look, feel, and perform at a premium level. In fact, River has essentially been the talk of the town ever since their products first hit the freestyle scooter market a few years ago, and it is mostly due to the fact that they are currently producing some of the best scooter wheels in the world. This should come as no surprise to any of you, but just in case it does, here is a little breakdown of the products that River Wheel Co has to offer.
First and foremost, the River Glides and the River Rapids were the first two products to be released by River Wheel Co just a few short years ago. Ever since their initial release, the entire freestyle scooter community has been hooked on both the company and their wheels. The River Glides come in a cool blue on blue colorway and are as smooth as the are fast. They are essentially the ultimate skate park cruising wheels, while the River Rapids come in a bright orange colorway and are a little bit more durable and heavy duty, which makes them ideal for street riding. Both of these wheels are currently available at Pro Scooter Shop! The River Glides are currently available for $79.99 per pair, while the River Rapids are $43.99 per wheel!
Aside from the phenomenal River Glides and River Rapids, River Wheel Co also has an entire signature collection of products for you to consider before making your next scooter wheel purchase. The Matt Mckeen, Hep Greg, Jack Colston, and Ryan Gould signature wheels come in a whole assortment of different colorways. The Matt Mckeen signature Rapid wheel comes in a classic black urethane on silver core and is available at Pro Scooter Shop for $42.99 per wheel. The Hep Greg signature Rapid wheel comes in a beautiful mint urethane on gold core and is currently on sale at Pro Scooter Shop for $37.99 per wheel. The Jack Colston signature Rapid wheel comes in a sweet green urethane on copper core and is available at Pro Scooter Shop for $87.95 per pair. The Ryan Gould signature Glide comes in a nice tan urethane on black core and is available at Pro Scooter Shop for $43.99 per wheel! As for the rest of the River Wheel Co products, they also offer the Pearl Dagger Glides, as well as the Scooter Resource Glides, which both come in their own unique colorways, as well. Hopefully, this article was at least somewhat useful in helping you with choosing the right pair of River Wheels for you. Be sure to check out our website at www.proscootershop.com for high resolution images of all of River Wheel Co's products!
---